Biography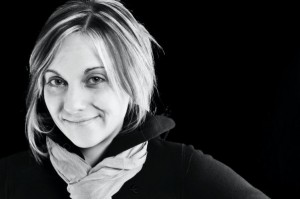 SHORT BIO

Julie Robinson is a young emerging artist, born in the small town of Amherstburg, Ontario. She has been actively pursuing her visual art carreer, developing her "Surreal West Coast Style". This style consists of smooth, colourful strokes surrounded by stylized black contours, much evolving from her background in graphic design and years of traditional painting. There is a real, but very imaginative flow to her pieces, that will keep you dreaming of the Pacific west coast!

Julie now calls Tofino home, and has recently opened her own public Studio/ Gallery called "Project Monster Studios". You can find Julie working hard at 451 Main St., Tofino, at "The Studio House" with her dog Radio.
ARTIST STATEMENT
My first memory of when my art took direction, I was about 6 years old, and was colouring in a book with my mom beside me. I looked over and noticed that my mom was colouring her dog orange. In a very snotty little voice I said "Um, Mom, Dogs aren't orange!", and she slyly said back to me, "my dog can be whatever colour i want it to be!" I never coloured another dog brown.
Painting is my most meditative time. It is when I can let go, relax, and focus on what is next to come in my life. I can visualize and lose myself almost instantly as the brush hits the canvas. My style comes from years of doodling with thick black lines in my sketchbook, years of practicing with acrylic paints, and taking great interest in how light hits different surfaces.
I am inspired by the west coast. It compels me and demands for me to paint it. Tofino, in particular, is where my heart lies, in the massive old growth rain forest, on the vast beaches, in the wildlife and in the First Nations culture. Trees are especially inspiring to me, as I see them like people. Some are small, tall, red, blue, yellow, distorted, young old, and have each lived a life different from all the rest, each with it's own personality and structure. The energy flows so abundantly here, so fast, so strongly, it is very magical. So magical that it allows me to paint for a living! Putting all of my faith and focus into my painting has allowed my to open my own space for creating and displaying my work, and create success in doing so! I only have the greatest aspirations for the life I am creating, whether it be in art, music, or whatever else I pick up along the way... Intention goes a long, long way!

MUSIC
At the age of eight, Julie had begun to take piano lessons, and by age 12 had won many awards and started to teach herself acoustic guitar. Once comfortable, the song writing started and has continued ever since. For many years Julie performed with her acoustic, heading several open-mic nights in Windsor, ON and in Tofino, BC.
In the summer of 2006 Julie released a CD with her band "AfroSuitBike", and is featured on a local collaboration album called "Live at the Weigh West 2".